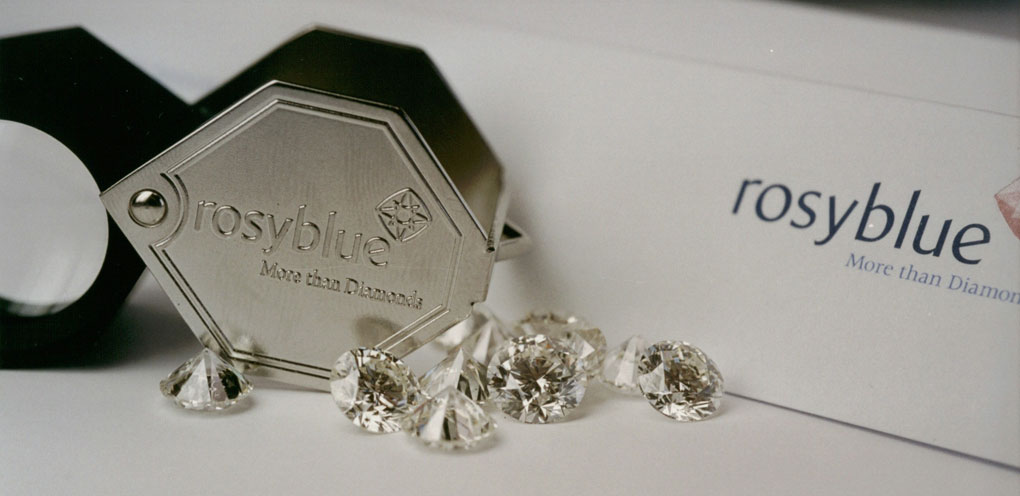 We take pride in our high ethical standards, and carefully verify the provenance of all our diamonds.
Legal Disclaimer
Rosy Blue (India) Pvt. Ltd.,
1608-1609, Prasad Chambers,
Opera House,
Mumbai – 400 004
The stipulations of this legal notice apply to all visitors of this website. The access to and the use of the website by the visitor implies the acknowledgement and the acceptance of this legal notice by the visitor. This legal notice is governed by Indian Law. Any dispute relating to this legal notice will be exclusively brought before the competent court in Mumbai, India.
This is the website of Rosy Blue (India) Pvt. Ltd., a private limited company incorporated under Indian Companies Act, 1956 with its registered office at 1608-1609, Prasad Chambers, Opera House, Mumbai – 400 004. The general phone number is 022-6665000 and the company can also be contacted by e-mail. Rosy Blue is a common trade name used by a network of business alliance entities, which are distinct, independently owned and managed.
The purpose of this site is to furnish general information on the Rosy Blue business alliance entities and their respective activities. While Rosy Blue (India) Pvt. Ltd. always tries to provide accurate and up-to-date information, it cannot guarantee that the site is exhaustive, non-infringing, free from computer viruses or similar disabling devices and/or interrupted functioning, and that all the information given here is to the point, accurate, exact and complete or fits for a particular purpose. Rosy Blue (India) Pvt. Ltd. can in no way be held responsible for any use that is made of the information given on this site -or on other sites that are referred to- or for the lack of any specific item of information. The information provided here should not be used as a basis for a business, tax, regulatory or any evaluation of Rosy Blue business alliance entities. Visitors are responsible for evaluating the accuracy, completeness or usefulness of any information or other content available on the website.
None of the information given here can be interpreted as an offer to buy or sell products or services, or to enter into agreements, unless a clear statement is made to the contrary. Similarly, nothing on this site can be interpreted as an offer to buy or apply for shares in Rosy Blue (India) Pvt. Ltd. or one of its business alliance entities. No rights can be derived from the content of the website. Rosy Blue (India) Pvt. Ltd. explicitly rejects, as far as permitted by applicable law, any and all liability for any damage, for whatever nature or kind, as a result of or in conjunction with access or use of the website and of the information contained herein.
All copyright, trademark rights and/or any other (intellectual) property rights relating to the content and architecture of this site, including but not limited to the photographs, text, logos, slogans, business names, etc., refers to Rosy Blue (India) Pvt. Ltd., or as the context may otherwise require, to business alliance entities. These (intellectual) property rights are in no way transferred to the visitor. These rights are protected by national and international legislative and regulatory texts which must be respected by all site visitors. This site and its contents may not be reproduced, leased, loaned, broadcast or used for public consumption in any way whatsoever without the express prior written consent of Rosy Blue (India) Pvt. Ltd. or any other entitled parties. Nevertheless, limited extracts of the site content may be freely used on condition that the source is clearly and explicitly stated. Under no circumstances may a fee be charged for this use, in whatever form.
References or hyperlinks to other websites are only included for the information of the visitor. Certain links in this site connect to other websites maintained by third parties or business alliance entities which are distinct, independently owned and managed. Rosy Blue (India) Pvt. Ltd. makes no representations as to the accuracy or any other aspect of information contained in other websites. Rosy Blue (India) Pvt. Ltd. does not endorse the content of these sites and cannot give any guarantees or accept any liability regarding these sites or their links.
Our Web server automatically recognizes the visitor's domain name (not the e-mail address) and records the visitor's browser and platform type (e.g., Netscape browser on a Microsoft platform).
We use cookies to facilitate the access to the website and the provision of information and therefore:
Record the visitor's session information Record user-specific information on the pages the visitor selects for viewing, - Retain the country of our site that you last visited.
Visitors have the possibility to refuse to have a cookie stored on their terminal equipment.
Rosy Blue email and any files transmitted with it are confidential and intended solely for the use of the individual or entity to whom they are addressed. If you have received an email in error please notify the system manager. A Rosy Blue message contains confidential information and is intended only for the individual named. If you are not the named addressee you should not disseminate, distribute or copy the e-mail. Please notify the sender immediately by e-mail if you have received an e-mail by mistake and delete the e-mail from your system. If you are not the intended recipient you are notified that disclosing, copying, distributing or taking any action in reliance on the contents of this information is strictly prohibited.
Warning: Although the company has taken reasonable precautions to ensure no viruses are present in this email, the company cannot accept responsibility for any loss or damage arising from the use of this email or attachments.